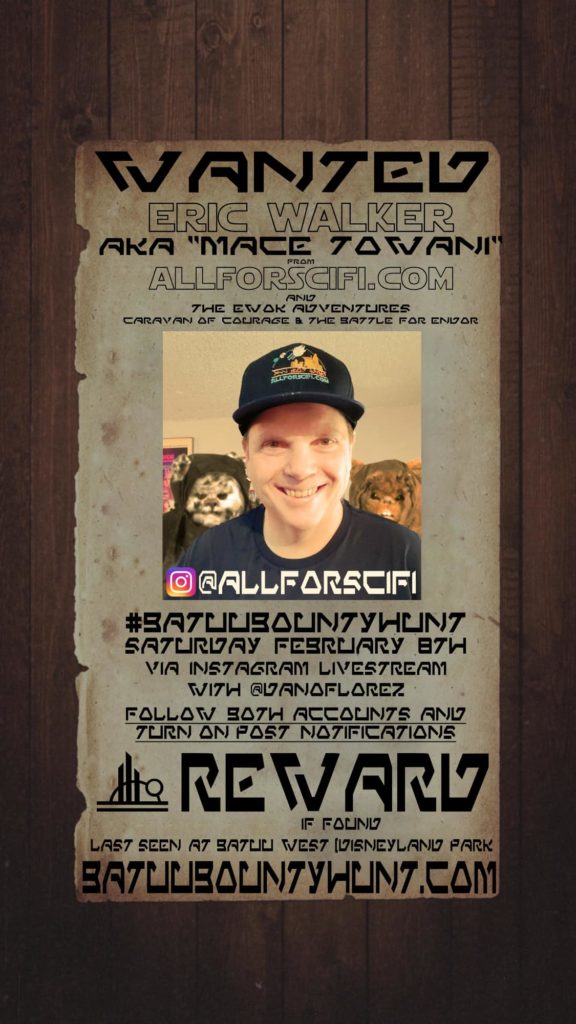 Calling all Bounty Hunters and the worst of the worst scum and vile aliens. This Saturday February 8, 2020, a bounty if being offered to both guild members and non members at Black Spire Outpost on Batuu west. The bounty is for Mace Towani aka Eric Walker. You must follow @allforscifi on Instagram and on Youtube. The code word to release the loot will be given during the weekly AllForSciFi Trivia game. The hunt will begin after the trivia game on Instagram.
A bonus trivia question will also be asked and if you get that correct, then you can also win a spork from Docking Bay 7. If it's not answered then a second hunt for the spork will ensue.
The Batuu Bounty hunt is the brain child of Daniel Florez commonly known as Dan O. from the Dan O Channel on YouTube. If you cannot make it on 2/09/2020, have no fear, as there will be more hunts all throughout the year sponsored by AllForSciFi and The Dan O Channel.
To keep up with the hunt you can also visit the official website at