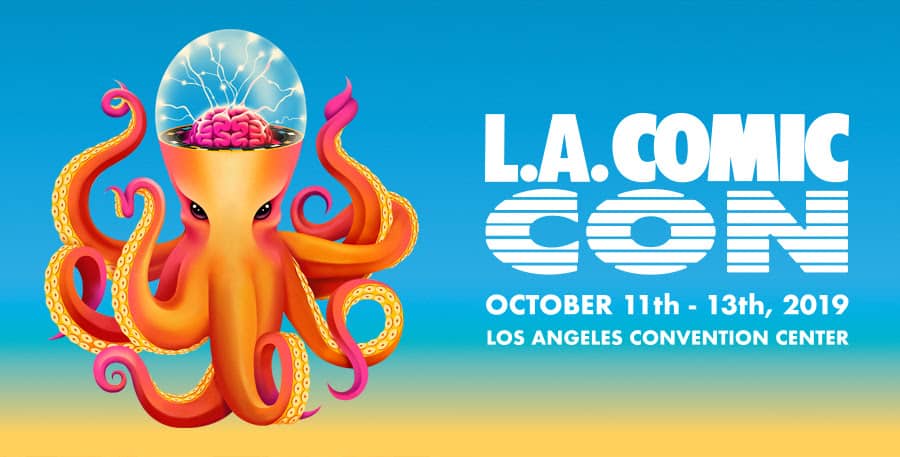 AllForSciFi will be there attending all three days and also streaming live on Facebook with videos on YouTube!
The guests include Elijah Wood, Ron Pearlman, Doug Jones, Tom Kenny and many more!
Here is the shows Press info:
Los Angeles Comic Con Adds More Iconic Stars, Programming, and Panels to Make its Ninth Year the Best One Yet 

Hosted and Emceed by Actress and Writer, Clarke Wolfe. Attendees will have the Chance to meet Brian Bloom, Felicia Day, Gabriel Iglesias, Richard Kraft, Rob Liefeld, Jason Mewes, Astronaut Andreas Mogensen, John Murphy, Emily Rice, Sherri Shepherd, Kevin Smith, Jacob Vargas, and many more!*

WHAT: Los Angeles Comic Con (L.A. Comic Con) celebrates its ninth and best-yet year in the entertainment capital of the world at the Los Angeles Convention Center. In 2018, over 106,000 fans joined L.A. Comic Con for celebrity panels, autograph signings, activations, comics, cosplay, and pop culture fanfare. The event plays host to 800+ artists and vendors, selling comics, collectibles, art, toys, apparel, and everything in-between. This year, 130,000 guests including 10,000 kids over three days are expected to attend. Attendees will have the chance to get up close and personal with some of the biggest and best names in the entertainment industry with a handpicked selection of panels, events, costume contests, and meet and greet opportunities. L.A. Comic Con will be emceed by Clarke Wolfe, Actress ("SATANIC PANIC," "MEMORY: THE ORIGINS OF ALIEN"), Host, and Writer (DC Universe, Nerdist, Collider, SyFy, and More). Special guests include Ron Perlman, Drake Bell, Gerard Way, and Actor Elijah Wood, who is also the Founder of Company X/SpectreVision whose partner agency Company X Marketing is the AOR for LA Comic Con.
"Los Angeles is the entertainment capital of the world — a city that is proud to be home to dreamers and doers who inspire us through their art and innovations — and L.A. Comic Con embodies the very best of this creative spirit" — Mayor Eric Garcetti.

WHEN: The Los Angeles Comic Con will take place October 11-13, 2019.

WHERE:
Los Angeles Convention Center
1201 South Figueroa Street
Los Angeles, CA 90015
Schedule Highlights:

Show Hours

Friday, October 11: 1:00 p.m. – 8:00 p.m.
Saturday, October 12: 9:30 a.m. – 7:00 p.m.
Sunday, October 13: 9:30 a.m. – 5:00 p.m.
---
Be sure to say Hi to us to receive some exclusive AllForSciFi merchandise like buttons, pins, etc. that we will have and giving out for free!