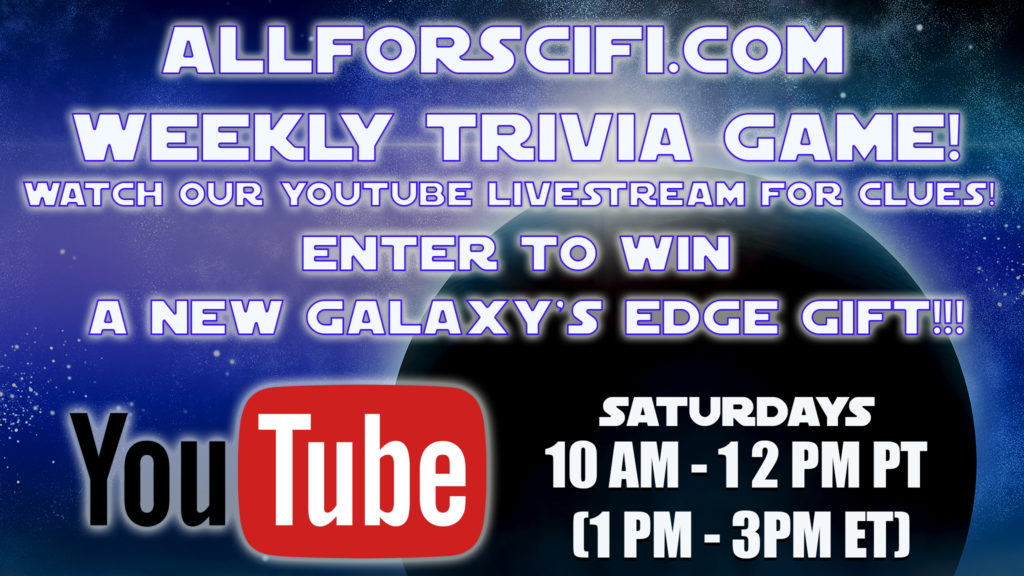 Yep, in celebration of our 2nd Anniversary AllForSciFi.Com has announced a new weekly trivia game via it's Saturday live stream on it's YouTube Channel!
All you have to do is tune in each week and watch for clues given during the weekly stream. At the end of the stream one trivia question will be asked about what we talking about during the stream. If you enter the correct answer in the comments, you can win that weeks prize gift. If more than one person answers it correct, then the first five names who did will be written down on a piece of paper for the one winner to be pulled out of a hat!
"Our goal in celebration of our second year is to give away 52 gifts" says Eric Walker, founder of AllForSciFi.Com.
If this works and all our viewers enjoy it maybe we can expand it more the following year!
So Don't forget to watch our live stream every Saturday from 10 am – 12 pm pacific, 1 pm to 3 pm eastern, and 12 – 2 pm central.
Our YouTube Channel can be found at: